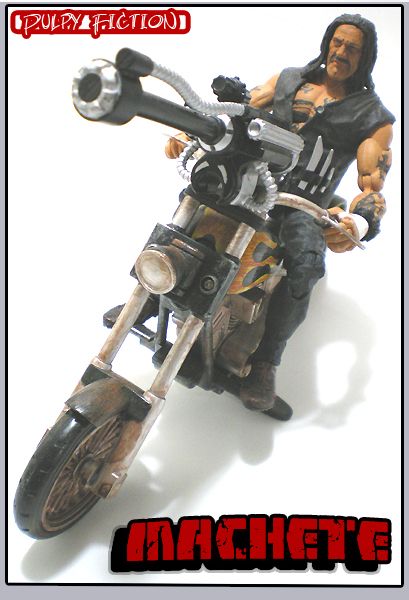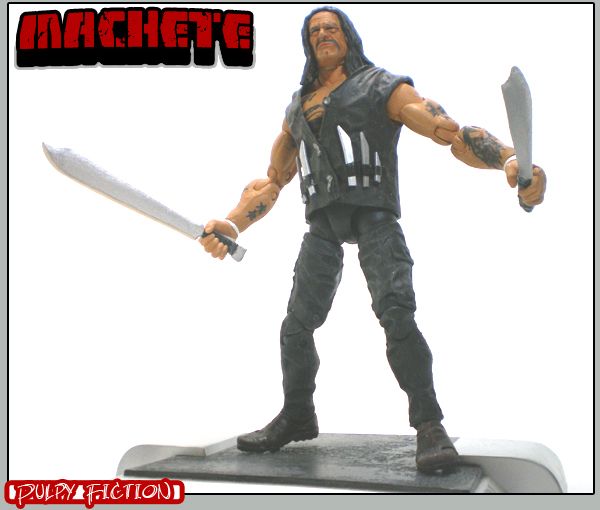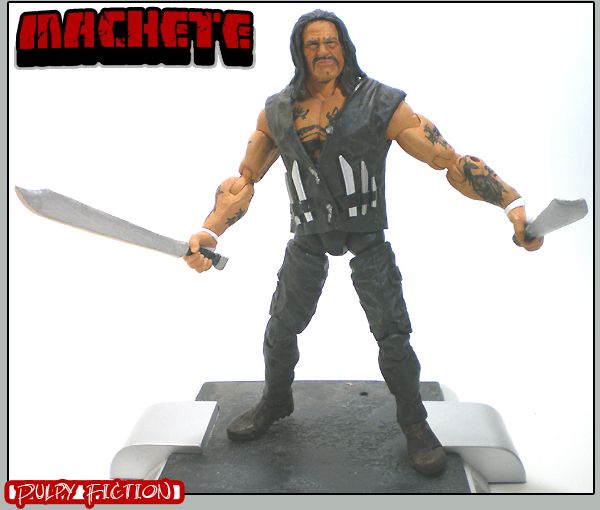 Who doesn't love a little good cheese! Machete is full of it! I loved the movie and this was a must to customize!
So here is my tribute to Danny Trejo in his breakout role!
Machete!
After being betrayed by the organization who hired him, an ex-Federale launches a brutal rampage of revenge!
If you haven't seen this deliberate campy craft-work of director Robert Rodriguez, DO IT! It's an expansion of a fake trailer that was released together with Rodriguez's and Quentin Tarantino's 2007 Grindhouse. Machete continues in the B movie and exploitation style of Grindhouse. It's a hilariously action packed awesome film!
Obviously it's clear why I was inspired to make this figure!
Recipe:
Head original sculpt
TNA Wrestler Torso and hands
Hasbro M.L. Wolverine arms
A.O.A. Wolverine CROTCH
Spider-Man 2 Doc Ock legs
A.O.A. Sabretooth Feet
The vest is from another tna wrester's long jacket-cut and repainted
Machetes scratch built
The tattoos are all as accurate as I could get, and the one on the chest is done in it's entirety, for those of you who haven't seen it, it's a woman with a sombrero on.
Thanks a lot for the views!
Okay some side notes and commentaries...
First off, a secret. I had taken the pictures of with the bike, and him standing separate. You might not notice it, but I had done the standing ones first, and had forgotten to add his leather wrist bands. By the time I got the bike (borrowed from a friend and fellow customizer Jack Warp -
thanks dude!
) I had added them, because unless I did it was going to bother me.
Sculpting the head took awhile and I had to do part of the sculpt work and then wait for it to dry to work on something else. This is one of those hitches of how I usually work, and causes me to multitask. I usually have several things on the workbench at a time because of this, so while I'm waiting for paint or sculpt work to dry, I can be using my time to get to something else. In a lot of cases it keeps my work flow steady, but in some it causes half or partially finished pieces to float around the workbench until I get back to them... If I get back to them! :(
This is another one of those customs that was a complete labour of love. I was extremely happy with the results, even though the legs I used weren't my first choice, and the vest was made from a cut up trench coat I wanted to keep whole, but sacrificed it to the cause. I love this guy and I hope you folks do too.
I'm also really proud to say he was the featured custom of the week on the fwoosh November 2nd, 2010. You can check that out here: http://www.thefwoosh.com/2010/11/new-custom-tuesday-1122010
Thanks to the folks at the fwoosh, specifically Matthew K
, that was a
REAL
Honour!